Top Ten Radiohead Songs
|
Written by Mike "The Voice" Matthews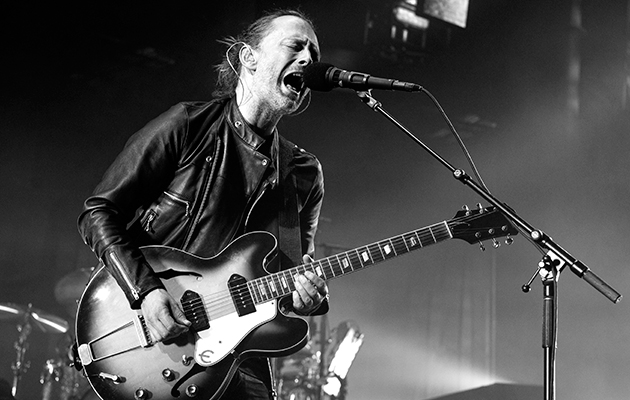 (Photo by Matthew Baker/Getty Images) Credit: Photo by Matthew Baker/Getty Images
April 1st is descending upon us pretty quickly. To most it's just April Fool's Day, but to some, it's the Radiohead concert in Atlanta, Georgia. Big cheese Rockin' Robbie Billz and I happen to have tickets for said event and we are going to have a grand old time. To me, this concert is at the top of my bucket list, so I am a bit excited. I decided to share my excitement with you, so I present to you my Top Ten Favorite Radiohead songs!
#10. A Wolf at the Door.

The last track from Hail to the Thief. It's a lyrical masterpiece of political culture and Thom Yorke's distaste for drunk party boys. Add in a jovial mix of keys and drums and you have a instant classic among fans.
#9. How I Made My Millions

The first B-side on the list. This track piggy-backs on the No Surprise single release. The mellow, piano driven song was recorded at Thom Yorke's home on a 4 track recorder. You can hear Thom's girlfriend in the background making ambient noise while doing daily chores. The song is hauntingly beautiful and adored by fans.
#8. Blow Out

The closing song for the 1993 album Pablo Honey. It's a jazzy lounge track that sets itself apart from the other songs on the album. One of guitarist Johnny Greenwood's favorite songs from the album.
#7. Lucky

The second-to-last track on 1997's OK Computer. Lucky has to be one of the best songs Radiohead has produced. It is overshadowed by more popular songs from the album, but it stands out because of its brilliant use of multiple guitars, from the slow beginning to the mesmerizing anthem-like end.
#6. Killer Cars

The second B-side to make the list. This one comes courtesy of The Bends. The first time I heard this was while listening to the Itch EP. The guitar-driven version can be found on the High and Dry/Planet Telex single. This song is also the second car-themed song from Yorke. Apparently, he was in a wreck late in his teens and the after effects have stuck with him. This track is obscure to the casual Radiohead listener, so if you haven't heard it, I recommend that you do.
#5. How to Disappear Completely

Track 4 off of the 2000 release Kid A. The haunting, but beautiful track features heavy on Thom Yorke's voice and a simple acoustic guitar. The ambient noise of the ondes Martenot and ghostly wail of the electric guitar add to the out of body experience. I have written this list a dozen times over and this track consistently stays within the top five.
#4. Polyethylene (Part 1 & 2)

The B-side to Paranoid Android. It also features on How am I Driving. Part 1 is a a soft acoustic song, while Part 2 is a full blown rock song. This song almost made it to OK Computer, but unfortunately, it didn't. Part 2 is what definitely grabs listeners. It hits hard, with guitars and drums that make you take notice. The arrangement of multiple guitars and bass make this one of Radiohead's best songs.
#3. National Anthem

Go to YouTube and find the live version of this from Saturday Night Live. Go ahead and watch it. I will wait. The chaotic mastery of distortion and samples is what makes this song brilliant. The SNL performance uses a jazz ensemble instead of the samples. Thom sings of fear and isolation, while the driving bass line makes this song complete.
#2. The Bends

The title track to Radiohead's second album. The Bends is hands-down one of my favorite tracks of all time. The song relates decompression sickness to that of a rise in popularity. It's a simple guitar-filled rock song. Johnny really goes all out on this track. His screaming chords give this song a punch and a definite change from the previous album. "The planet is a gunboat in a sea of fear and where are you" is probably one of my favorite lyrics.
#1. The Tourist

The last track on OK Computer simply blew me away the first time I really heard it. Track skipping between the big three and jumping all over, it wasn't until I sat down and truly listened to this song that I fell in love with it. This lullaby with a soft, yet heavy guitar, especially the solo, is incredibly moving. The constant melody was played by Johnny on a mellotron. This song was written by Johnny, who received the inspiration while watching tourists in France.
So there you go. I hope you have enjoyed the list. If you are not a fan of Radiohead, then I hope this inspires you to check out these songs. If you are a fan, I'd love to know what you think! Simply leave a comment below!
–Mike "The Voice" Matthews